Expedited Harriet's Closet & Child Care Training
When: Thursday, March 1, 2018
Time: 5:00-8:00 p.m.
Where: Tubman East - 1725 Monastery Way, Maplewood, MN 55102
This training is a special expedited training for volunteers interested in starting before May as a Personal Shopper in Harriet's Closet or a Child Care Champion.
To sign up for this training, contact Katie Massie at 651.789.6752 or kmassie@tubman.org. To apply, head to the Volunteer/Intern Application.
Next Training Series: May 2018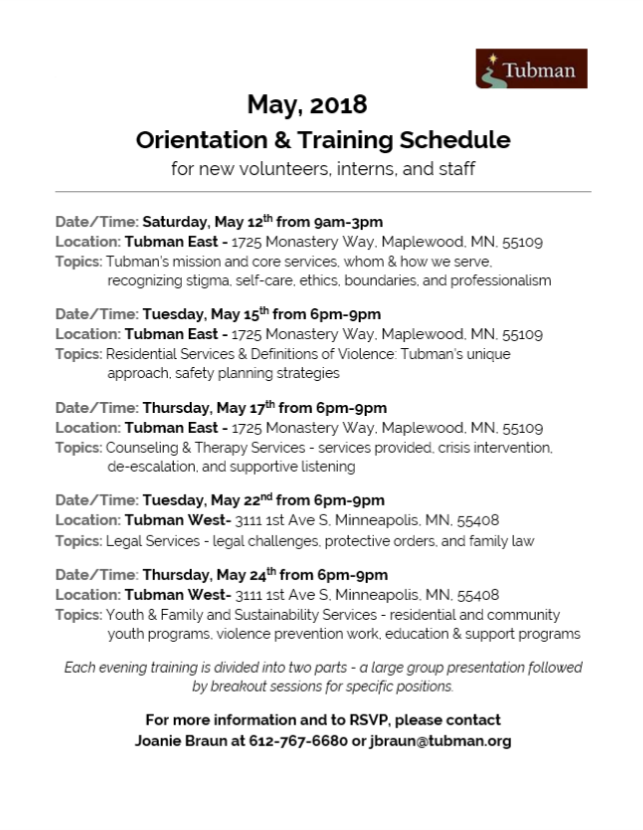 Click to view the volunteer and intern training calendar for Fall 2018.
Safety Project Trainings
Wednesday, February 14, 8:30 a.m. - 12:30 p.m.

Bassford Remele
Fifth Street Towers
100 South 5th St, Suite 1500, Minneapolis

Presenter: Civil Legal Advocate, Shiloh Bute, Esq., Tubman

Wednesday, June 14, 8:30 a.m. - 12:30 p.m.

Dorsey Whitney
50 South 6th St #1500, Minneapolis

Presenter: Civil Legal Advocate, Shiloh Bute, Esq., Tubman