Tubman Peace Camp 2019
Summer is right around the corner!
Peace Camp is right around the corner, and we need your help to supply the children and youth participating this year with the materials needed to make this a summer to remember!
Tubman's Peace Camp is a summer, day activity program for youth ages 5 and up who are staying in our shelters. Peace Camp provides weekly themes that blend educational and recreational programming to create fun and engaging learning opportunities for kids during the summer months. Peace Camp also offers monthly field trips that include parents/guardians and younger siblings so all can enjoy positive family enrichment opportunities!
See the list below for more information on donation needs, and the flyer for drop-off times and locations.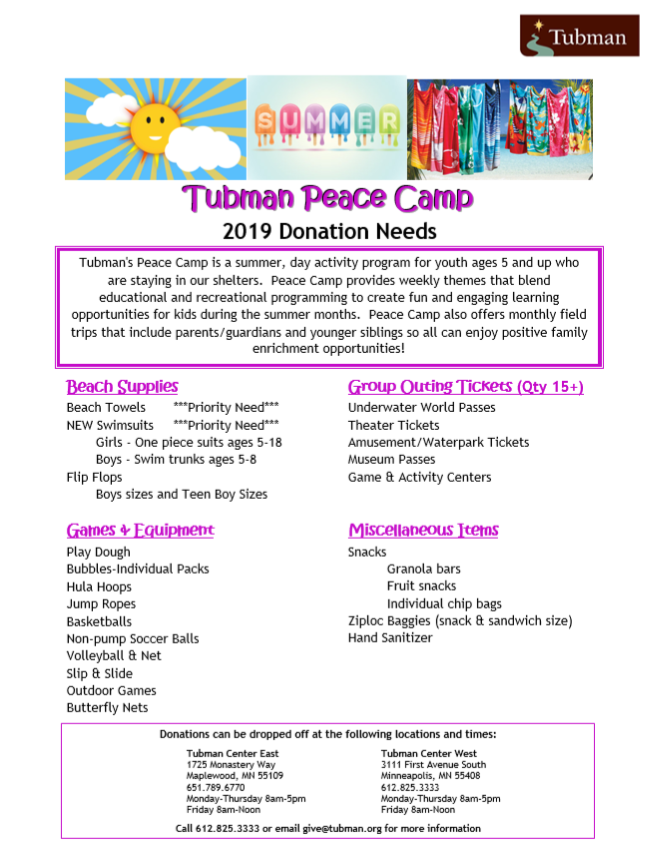 NEW one-piece swim suits for ages 5-18

NEW swim trunks for ages 5-18

NEW flip-flops for boys and teens

Activity passes and tickets to movie theaters, water parks, zoos, Science Museum, etc.

Snacks - granola bars, individually wrapped packs, etc.
Donations can be dropped off to the following locations during these times:
Tubman West - Minneapolis
3111 1st Ave South
Minneapolis, MN 55408
612.825.33333
8 a.m. to 5 p.m., Monday-Thursday
8 a.m. to noon, Fridays
Tubman East - Maplewood
1725 Monastery Way
Maplewood, MN 55109
651.789.6770
8 a.m. to 5 p.m., Monday-Thursday
8 a.m. to noon, Fridays
Call 612.825.3333 or email give@tubman.org for more information.