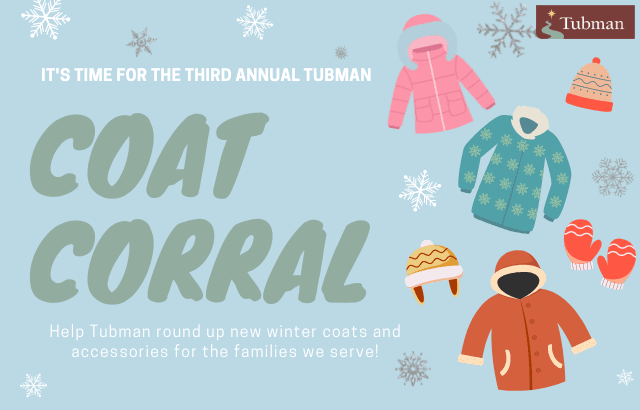 Help Tubman provide warmth for the people we serve this winter!
Many people fleeing violence and trauma often leave home quickly with little or nothing except what they have on them. At Tubman, we work to provide normalcy and basic needs for our clients so they can focus on their safety, stability and healing.
A warm coat is a necessity during a Minnesota winter, especially for many of our families as they rely on walking or public transportation.
In order to provide warmth this winter, we need your help and that of our generous community to collect new coats.
We are looking for NEW coats for all genders, ages and sizes. 
Specific sizes and needs include:
Men's or masculine-presenting coats - sizes small, medium, large
Women's or femme-presenting coats - plus sizes XL-4X
Children's snow pants and snow boots - all sizes
Weather-proof winter accessories for adults and children: hats, mittens and gloves, and scarfs - all sizes.
We kindly request no handmade/handknit gloves, mittens, or hats.
Our Great Tubman Coat Corral starts now and will run through the end of November. Will you, your family, friends or colleagues join us in making sure that families and individuals, who are experiencing violence, trauma and hardship from COVID-19, feel warmth, safety, hope and healing this upcoming winter?
For a downloadable flyer to share with your friends and family, click here!
Donations can be dropped off to Harriet Tubman Center East, 1725 Monastery Way, Maplewood, MN 55109.
Please call 612.825.3333 to schedule your donation drop-off today!
For questions, please email give@tubman.org.