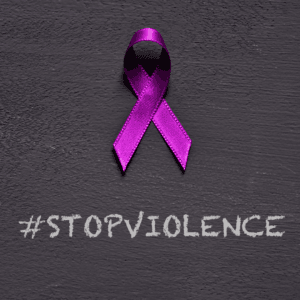 October is Domestic Violence Awareness Month (DVAM)!
Each October, we bring awareness to the issue of domestic and intimate partner violence. Domestic Violence Awareness Month is an opportunity for all of us to work together to end domestic violence. This month helps bring a larger-scale awareness and focus on supporting survivors and preventing abuse completely.
Wear purple on Thursday October 19th to show support for Domestic Violence Awareness Month! And continue to raise awareness with the hashtag #Every1KnowsSome1
Check out some fast facts about domestic violence in general and DVAM!
Began as a single "Day of Unity" in October 1981.
In 1987, the first Domestic Violence Awareness Month was observed.
In 1989, Congress designated October as DVAM and this has continued every year since.
The color associated with domestic violence awareness and support is purple.
Domestic violence or intimate partner violence includes physical, sexual, psychological violence and stalking.
72.3% of female identifying persons and 62.1% of male-identifying persons had experienced any form of domestic violence before the age of 25.

1 in 4 female identifying persons had experienced before the age of 18.
1 in 5 male identifying persons had experience before the age of 18.
Prevention and education efforts are extremely important to help address experiences of violence in youth: Promoting healthy, respectful, and nonviolent relationships and communities can help reduce the occurrence of IPV (what we do at Tubman and especially our Youth Education team!). If you are interested in getting resources related to violence prevention or education, EMAIL US anytime.
References:
Leemis R.W., Friar N., Khatiwada S., Chen M.S., Kresnow M., Smith S.G., Caslin, S., & Basile, K.C. (2022). The National Intimate Partner and Sexual Violence Survey: 2016/2017 Report on Intimate Partner Violence. Atlanta, GA: National Center for Injury Prevention and Control, Centers for Disease Control and Prevention.