Event Calendar
Benefit for LGBTQ+ Youth Safe Spaces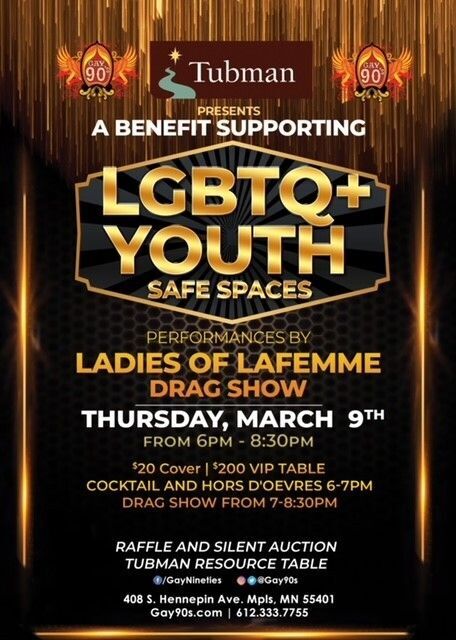 Hosted at the Gay 90s nightclub, this 18+ event fundraiser for Tubman will support their services for LGBTQ+ youth. The event will be from 6:00 p.m. to 8:30 p.m. Thursday, March 9, at the club at 408 Hennepin Ave, Minneapolis.
Admission is a minimum donation of $20 to Tubman at the door. Donations may be made with cash or credit card. Guests may also opt for VIP table service for up to seven people for $200, $100 of which goes to Tubman. VIP table service may be purchased in advance or at the door. Quantities are limited. Call for availability: 612.333.7755.
The hors d'oeuvres buffet will be available from 6 p.m. to 7 p.m., and each drink purchased will come with one raffle ticket towards special gift baskets. Additional raffle tickets will be available for purchase. The entertainment begins at 7 p.m. featuring the Ladies of LaFemme.
For more information, please call Tubman's business line at 612.825.3333.