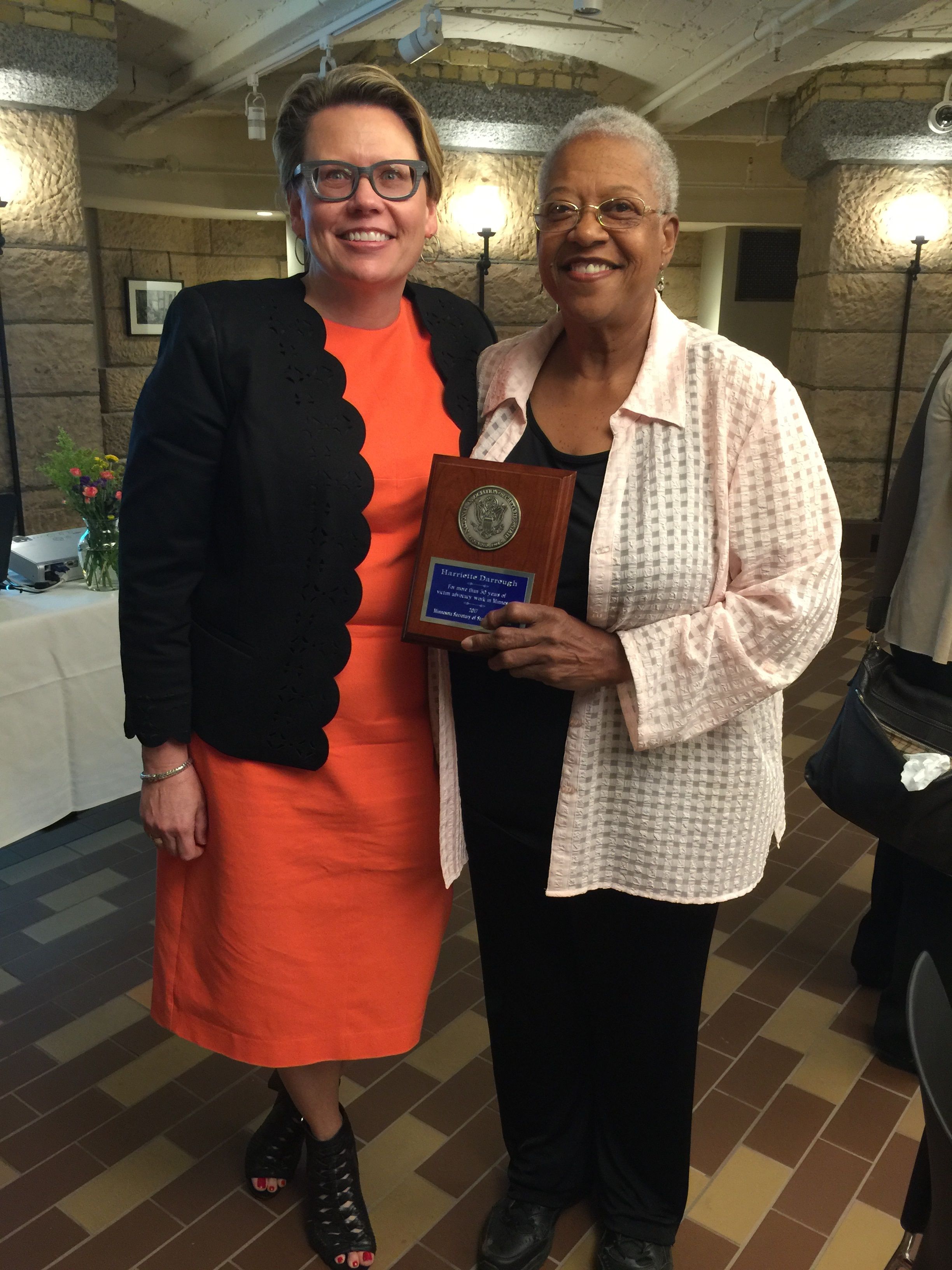 SAINT PAUL — Today, Secretary of State Steve Simon held an awards ceremony at the State Capitol where he recognized Vanessa F. and Harriette D., Tubman employees, for their commitment to and partnership with the Secretary of State's Safe at Home address confidentiality program as an Application Assistant over the last decade.
At the awards ceremony, in honor of Safe at Home's 10-year anniversary, Secretary Simon recognized 25 Application Assistants from 19 organizations who have been dedicated partners since Safe at Home began serving Minnesotans in 2007.
"Safe at Home plays a critical role in helping protect victims of domestic violence and other Minnesotans who fear for their safety, and it would not be possible without partners like Tubman," said Minnesota Secretary of State Steve Simon. "I'm proud to recognize the hard work and dedication of these Application Assistants who have helped enroll participants in the program over the last 10 years. They represent Safe at Home on the front lines every day and allow participants to go about their daily lives without risk of the person they fear discovering their physical address."
The Safe at Home program is designed to assist Minnesotans who wish to keep the location of their physical residence private for personal safety reasons, often because they are victims of domestic violence and stalking. Participants in the program use a P.O. Box as their legal address for all purposes, such as paying bills, filing taxes, legal services, among many others. First-class mail sent to the P.O. Box is then forwarded to the participant's physical address by the Secretary of State's Office.
The Secretary of State's Office partners with nonprofit organizations all around the state to work to enroll victims of domestic violence, stalking, and others who fear for their safety, in Safe at Home. Application Assistants, employed by nonprofit organizations like Tubman, are specially trained to assist people who would like to enroll in Safe at Home. A person who wants to enroll in Safe at Home meets face-to-face with an Application Assistant to discuss their safety concerns and the Application Assistant works with them to determine whether enrolling in Safe at Home is a good safety step for the person to take.
Safe at Home has enrolled nearly 6,000 people since 2007. There are over 250 trained Application Assistants throughout Minnesota, covering every county in the state.
"It's rewarding to see the sense of relief that clients experience when they complete the Safe at Home application," said Karen Oleson, Tubman's Legal Manager, who oversees the Safe at Home program for the organization. "They look forward to having some stability in their lives, especially if they have had to move several times in order to be safe."
Tubman's mission is safety, hope, and healing, and the organization offers countless ways to help people of all ages and genders facing relationship violence, sexual exploitation, addiction, mental health challenges or other trauma. To get help, call the 24-hour crisis and resource line at 612-825-0000, or to learn more, visit www.tubman.org.